Remanufacturing
BETTER BE SAFE
Factory remanufactured brake calipers – what is that exactly?
A brake caliper consists of many parts, where some parts are more advanced and delicate than other parts. The housing of the caliper (the main component made of either cast-iron or aluminium), on the other hand, is not a very delicate object, and will still have many useful years left in it after the small and more fragile parts have served their purpose within the expected lifetime.
So, what to do with the caliper housing?
Quite often when a caliper is exchanged on a vehicle, it is not the caliper housing itself that needs replacement, but one or more of the various parts of the caliper that has been worn out. Discarding the housing, or "core", would be a waste, as there is quite often a lot of life left in the core. Factory remanufacturing is essentially taking that old core and making a new product out of it, which in quality and performance is indistinguishable from a completely "new" product.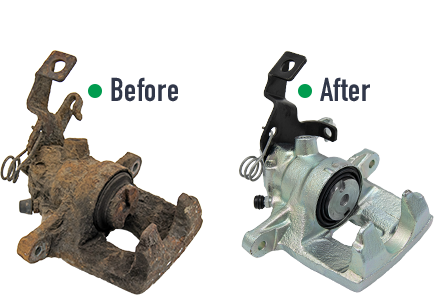 Factory remanufacturing by caliper experts
At Budweg, we remanufacture old brake calipers by cleaning up the old cores, giving them a new surface treatment, a lot of love, and a set of new high quality spare parts to ensure that the quality and expected lifetime is above and beyond what is normally offered for a new product. And it shows on our claims rate, which is consistently below 0.3% for all Budweg products. As a guarantee that this is not an empty statement, we are willing to back-up our claims with a 5-year warranty on all Budweg products. Better be safe!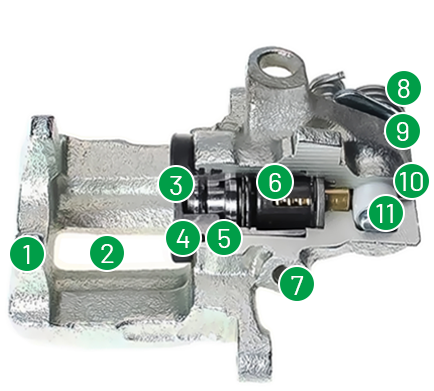 | 1 | Durable corrosion resistant surface | 2 | Correctly adjusted – ready to be installed with new discs & pads | 3 | New high quality piston w. hard chrome | 4 | New piston gaiter | 5 | New high-quality hydraulic seal | 6 | New self-adjuster parts | 7 | Inlet threads re-cut & checked | 8 | New return spring | 9 | New handbrake lever | 10 | New bleeding nipple | 11 | New cam, bushings & bearings
Remanufacturing process
Despite what one might think, remanufacturing is not an easy or uncomplicated process, but requires an extensive knowledge of the product and its applications. The only reason Budweg can maintain its consistent level of quality is due to experience, product expertise, and finely tuned processes, where each and every caliper is critically scrutinized many times by many different functions, before it finally is being accepted (or discarded) in an end-of-line test that is performed for each caliper produced at Budweg.